The Barbados Sea Turtle Project operates a 24-hour "Turtle Hotline". Coastal property residents and staff, beach-goers and visitors are encouraged to report any sea turtle nesting or hatching activity to the BSTP. BSTP volunteers are out patrolling the beaches on a nightly basis. However, we cannot possibly cover the entire island, nor can we be everywhere at the same time. Therefore, public calls are greatly appreciated and are valuable aids in conservation and research efforts. We cannot succeed without your help.
The Barbados Sea Turtle Project would like to know about all types of sea turtle related activities which can include turtles on the beach nesting, turtle tracks or a nest on the beach (even if the turtle is no longer present), turtles wandering off the beach onto roads or into properties, disorientated hatchlings, hatchling tracks, exposed eggs in the sand, injured or dead turtles. Illegal capture of sea turtles (see Legislation) can be reported to the Royal Barbados Police Force (211 or 246-430-7100) and the Fisheries Division (246-426-3745).
Turtle Hotline Phone Number: (246) 230-0142

All sea turtle species are protected by law in Barbados. The Fisheries Regulations state that
(1) No person shall
have in his posession;
sell or expose for sale or;
purchase
any turtle or part thereof or turtle eggs.
(2) No person shall fish for or ensnare a turtle.
(3) No person shall disturb or endanger any turtle nest or remove from a nest any turtle eggs.
Any person who contravenes these Regulations is guilty of an offence and is liable on summary conviction to a fine not exceeding $50,000 or to imprisonment for a term of 2 years or both.

The Barbados Sea Turtle Project informs the public about sea turtle biology, conservation efforts, and research programmes. Several methods are used to promote this type of education.
Whenever possible, local and international television programmes, radio programmes and newspapers are used to widely spread information about sea turtle issues in Barbados and the other Caribbean territories.
During the school year, BSTP volunteers make presentations to students throughout the island. During the summer vacation, which coincides with the hawksbill turtle nesting season, we give presentations at the numerous summer camps held around the island.
During the nesting season, hotels and local conservation organisations occasionally request presentations or displays for staff and guests interested in the environment. These presentations help to ensure that persons working on or using the beaches of Barbados can interact safely with marine turtles and can react appropriately if they find hatchlings or a turtle in distress.
If you would like to arrange a presentation or display, contact us.

The hatching season for hawksbill turtles in Barbados runs from mid-July through to mid-October and hatchlings usually emerge between 6pm and 6am.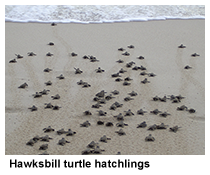 The BSTP tries to keep turtle events as natural as possible. Therefore, if hatchlings are making their way safely to the sea, our volunteers will not interfere and will allow the hatchlings to proceed naturally. However, if hatchlings travel inland due to disorientation by lights, a rescue effort is made to gather them up and to release them on a darker section of the beach where they can walk themselves into the sea.

The BSTP does not maintain a hatchery, nor do we raise turtles in captivity. Therefore it is only in cases of disorientation during the peak hatching season that we will be able to organize hatchling releases. If you would be interested in participating in this unique activity, please click on the link below.


The Barbados Sea Turtle Project would be unable to continue conservation and educational activities without the participation of local and international volunteers. Each year, we accept volunteers from Barbados and from many countries around the world to assist with data collection, sea turtle rescues, presentations and displays.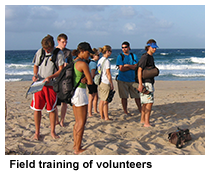 We accept volunteers between May and November each year, usually for periods of 2-4 months.
Each volunteer group is comprised of six local and six international volunteers. Volunteers are trained extensively so that they learn and practice the skills necessary for effective sea turtle conservation. These skills include:
interacting with a nesting female without disturbing her
accurate collection of scientific data
identifying activity types based on track patterns
dissemination of information to schools, camps, hotels and interested beachgoers
safely relocating a sea turtle nest
sea turtle nest excavation
Volunteer advertisements are posted online on the Seaturtle.org Job Board, Stopdodo, the Society for Conservation Biology and Planet Volunteer at the end of every year. To be accepted, volunteers must be at least 21 years old, physically fit, hard-working, responsible, have good interpersonal skills and be able to collect accurate scientific data.
To find out more about our volunteer programme or to apply for one of our volunteer periods, look for our online volunteer advertisements or contact us.